U came out to show the belly:
Some tank shots of the Bene tank: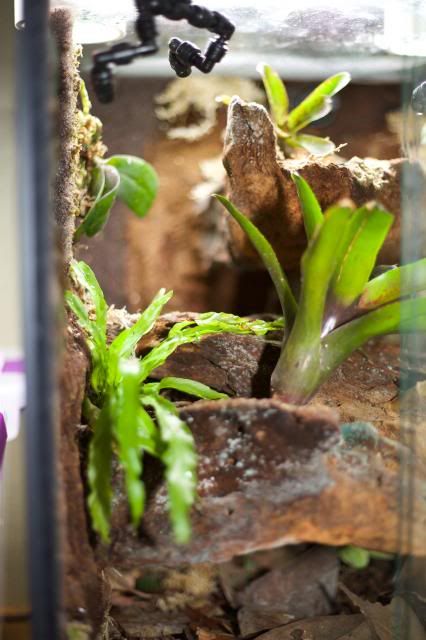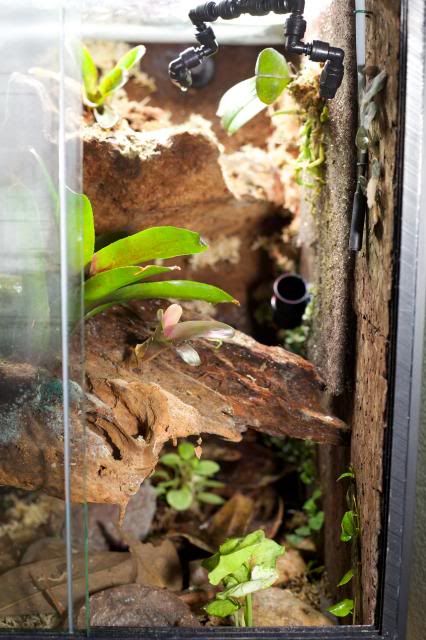 ---
Very nice and don't worry if you get mold, fungus or 'shrooms - all are natural and peter out eventually / no harm to frogs.
---
Ya, you can see some mold in the pictures already. Not worried at all and I love when the random mushroom pops up. Thanks!
---
Have the second tank in place for the Vulture Points. Misting schedule is working and all seems well with the frogs.
Here is a pic or two and I will take the time soon to get some high quality images I promise. 3 more tanks to go on this row.
Still need to get the canopy built/stained/installed.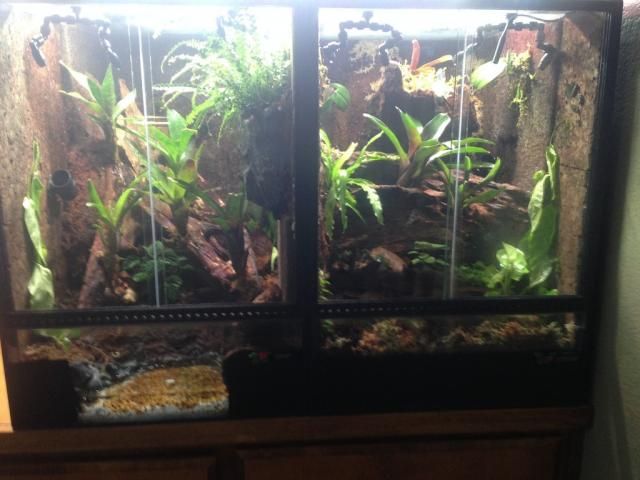 ---
Guess the Vulture Points like their new home. This guy has been calling all the time lately:
---
Have you had to mute the phone yet?
brad
---
So far no one has commented but he is pretty loud. Loving it!
---
Finally got the cabinet finished and the last tank installed. Still need to plant the last two and get frogs in them. I have banded imitators for one and my wife really wants some anthonyi for the other.
From left to right we have two empty tanks right now. The furthest left will be for the anthonyi and the next one for the banded. We then have the vulture point pums, the vanzolini and finally the benedicta. All the frogs are going great. I have seen the vanzos transporting, I have at least one bene tad and the pums call like crazy all day.
Here are some tank pics:
BENE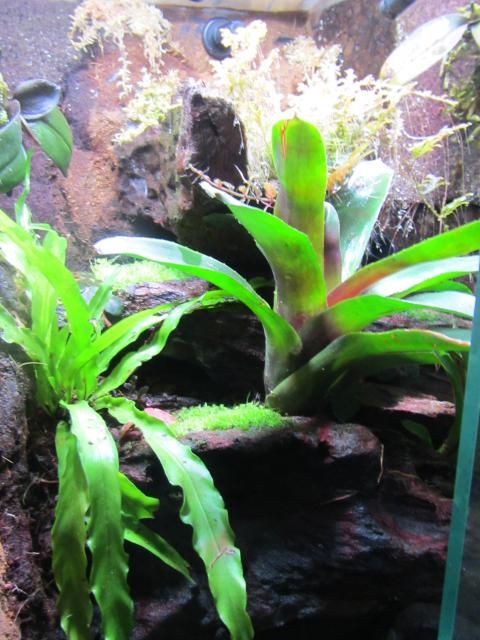 VANZO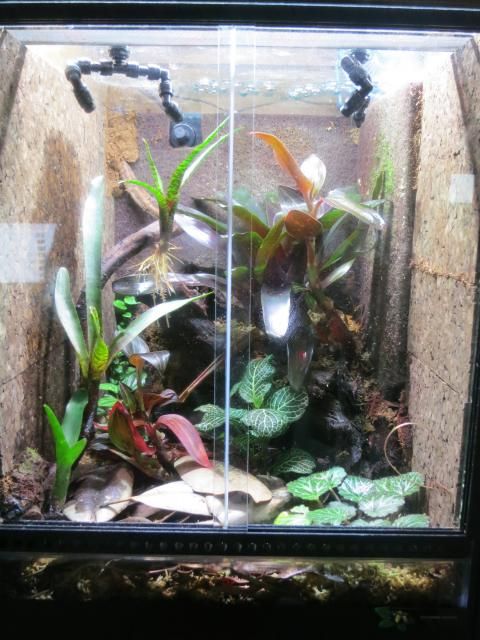 PUMS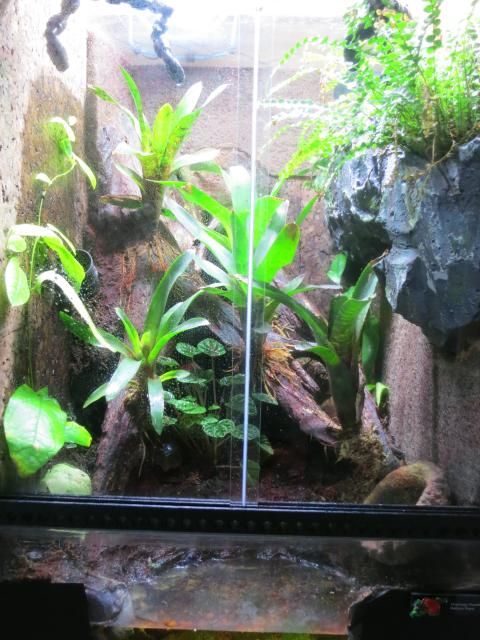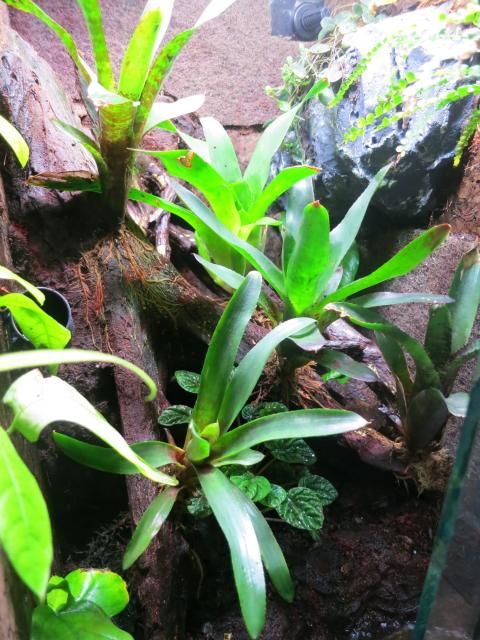 I finally was able to mount the LED light bars in the canopy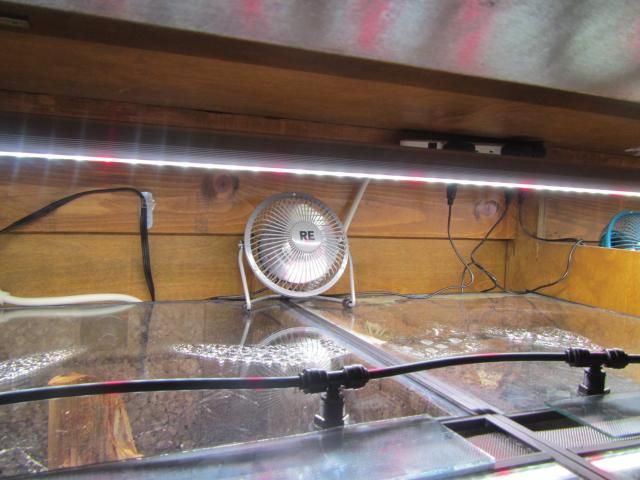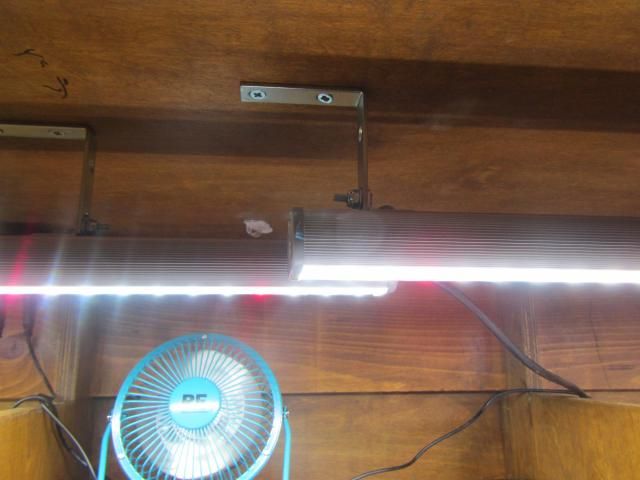 I used a 4" fan from Target branded by Room Essentials. It has a USB connection or power adapter and I connected them to a power strip that is on a timer synched with the lights. With the fans on the bars barely reach 90 degrees and little heat is transferred to the vivs.
I did have to cover the vents some as it was drying the vivs out and did this will small glass strips:
---
---
---
---
---
Return to "Vivarium, Frog Room and Plant Photographs"
Who is online
Users browsing this forum: No registered users and 31 guests